Chi Li

池莉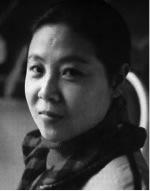 MCLC | baidu | MyChineseBooks.com | Chinese Short Stories |
Born in the central Chinese province of Hubei in 1957, Chi Li was sent down to the countryside after graduating from high school in 1974 and worked as a teacher, doctor and magazine editor before moving permanently to fiction. In the latter half of the 1980's she was a leader in the "New Realism'' trend in contemporary literature, which rejected the sociopolitical idealism and hero worship of Party literature (and May 4th literature before that) and focused on the lives of real people. For example, Chi Li's first novel, Frustrating Life, follows a common middle-aged factory worker as he goes about his largely uneventful life, which is defined primarily by an endless string of minor frustrations -- crowded transportation, cramped living spaces, disputes at home and at work, et cetera. Frustrating Life and the two novels Chi Li published soon afterward -- We Won't Talk About Love and The Sun Rises -- have been referred to as the "New Realism trilogy.*
Like Wang Anyi in Shanghai, Chi Li's fiction is heavily grounded in her home city of Wuhan. Her novel Life On Parade, set on Jiqing Street in Wuhan, engages the city as a theme instead of merely as a background, reminiscent of Wang Anyi's Song of Everlasting Sorrow. Her novella The Heart Ages First won the Lu Xun Prize and was anthologized in English. In the 90's, Chi Li turned to slightly more sentimental, more romantic topics, as in her most recent novel Therefore, and several of her newer stories have been made into television series.
In France Actes Sud has published ten titles of Chi Li's books.
French publisher: http://www.actes-sud.fr/contributeurs/chi-li
Original Works
The Paper Republic database exists for reference purposes only. We are not the publisher of these works, are not responsible for their contents, and cannot provide digital or paper copies.