Bei Dao

北岛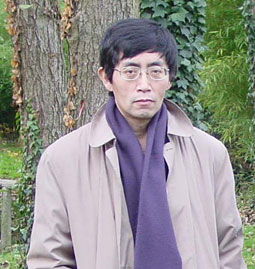 wikipedia | worldcat | MCLC | academia | baidu | CBI | Chinese Short Stories |
Chinese poet Bei Dao (pen-name of Zhao Zhenkai (趙振开) emerged as one of the most influential "Misty" or Obscure Poets (朦胧诗人) in the late 1970s. He co-founded the literary magazine Today (今天) which was central to the menglong movement, and was published on the mainland from 1978 until it was banned in 1980. The magazine moved to Sweden in 1990 and has since become a forum for exiled writers. Bei Dao was involved in pro-democracy movements in 1976 and 1987, and was forced into exile in 1989 when he was prohibited from returning to China following a conference trip to Berlin. He has lived and worked in England, Germany, Norway, Sweden, Denmark, Holland, France, and the United States. Briefly allowed back to mainland China in 2006, he is currently Professor of Humanities at the Chinese University of Hong Kong.
Emblematic of Bei Dao's defiant poetic stance is his most famous poem Answer (回答), written during the 1976 Tiananmen protests. His work has been translated into twenty-five languages, and he has received the Tucholsky Prize from Swedish PEN and been nominated several times for the Nobel Prize in Literature. Bei Dao is also an honorary member of the American Academy of Arts and Letters.
Most important works in Chinese: 《陌生的海滩》(1978)(lit. Strange Beach) 《北岛诗选》(1986)(lit. Anthology of Poetry by Bei Dao)、《在天涯》(1993)(lit. At the End of the World)、《午夜歌手》(1995)(lit. Midnight Singer)、《零度以上的风景线》(1996 )(lit. Landscape Over Zero)、《开锁》(1999)(Lit. Unlock),《归来的陌生人》(1987)(lit. Returned Stranger), and the essay collections《蓝房子》(1999)(lit. Blue Appartment),《失败之 书》(2004)(Lit. Defeated Book),and《青灯》(2008) (Lit. Green Light)。
Links:
Baidu author page (in Chinese) contains some of his most famous poems, as well as more information about his books.
Bei Dao author page on Poets.org
Books by Bei Dao translated into English:
Poetry:
Endure (Black Widow Press, 2011), translated by Clayton Eshleman and Lucas Klein
The Rose of Time: New and Selected Poems (New Directions, 2010) edited by Eliot Weinberger
Unlock (New Directions, 2000) translated by Eliot Weinberger and Iona Man Cheong
Landscape Over Zero (New Directions, 1998) translated by Yanbing Chen and David Hinton
Forms of Distance (New Directions, 1994) translated by David Hinton
Old Snow (New Directions, 1992) translated by Bonnie McDougall
The August Sleepwalker (New Directions, 1989) translated by Bonnie McDougall
Essays:
Midnight's Gate (New Directions, 2007) translated by Matthew Fryslie, edited by Christopher Mattison
Blue House (Zephyr, 2000) translated by Ted Huters and Feng-ying Ming, is Bei Dao's first collection of essays to be translated into English.
Fiction:
Waves (New Directions, 1990) translated by Bonnie McDougall and Susette Ternent Cooke, is a collection of short stories written during the last years of the Cultural Revolution.
Original Works
The Paper Republic database exists for reference purposes only. We are not the publisher of these works, are not responsible for their contents, and cannot provide digital or paper copies.